The 2023 EFPT in Vieste is about to kick off on the 7th of June, and it's the biggest Freestyle Pro Tour event of the year! Hosted by the Villaggio Camping Spiaggia Lunga and Panini di Mare for the third time, a total of 30 international riders will compete in two disciplines over 5 days: Freestyle and Foilstyle. The Women's fleet is also present, and they are on form to finally show their style in Italy. Both disciplines are still wide open in terms of the 2023 title race. Lennart Neubauer (Starboard/Severne/Maui Ultra Fins) is in the lead after his historic first win in Austria, but there are multiple riders on his heels. Furthermore, the Foilstyle is likely to be the first time it sees a result (after a windless Foilstyle competition in Geneva). Nobody really knows how the entrants will match up against each other and this will therefore be an exciting watch! Excited yet? All the action will be livestreamed with daily liveshows so you will not miss anything. Want to prepare yourself? Read about what to look out for at this event below.
Check out the 2022 EFPT Vieste Event highlights for a taste of the action to come!
Foilstyle
Vieste will likely yield the first ever Foilstyle result on the EFPT. With perfect conditions for foiling preceding the strong wind moments in the day, riders will be going out and competing much earlier than ever before. During the 2022 edition of the event some of the athletes had their foils with them already, and showcased the great potential of this spot for the discipline. How will the waves affect the competition, who's contending to win and what moves will we see?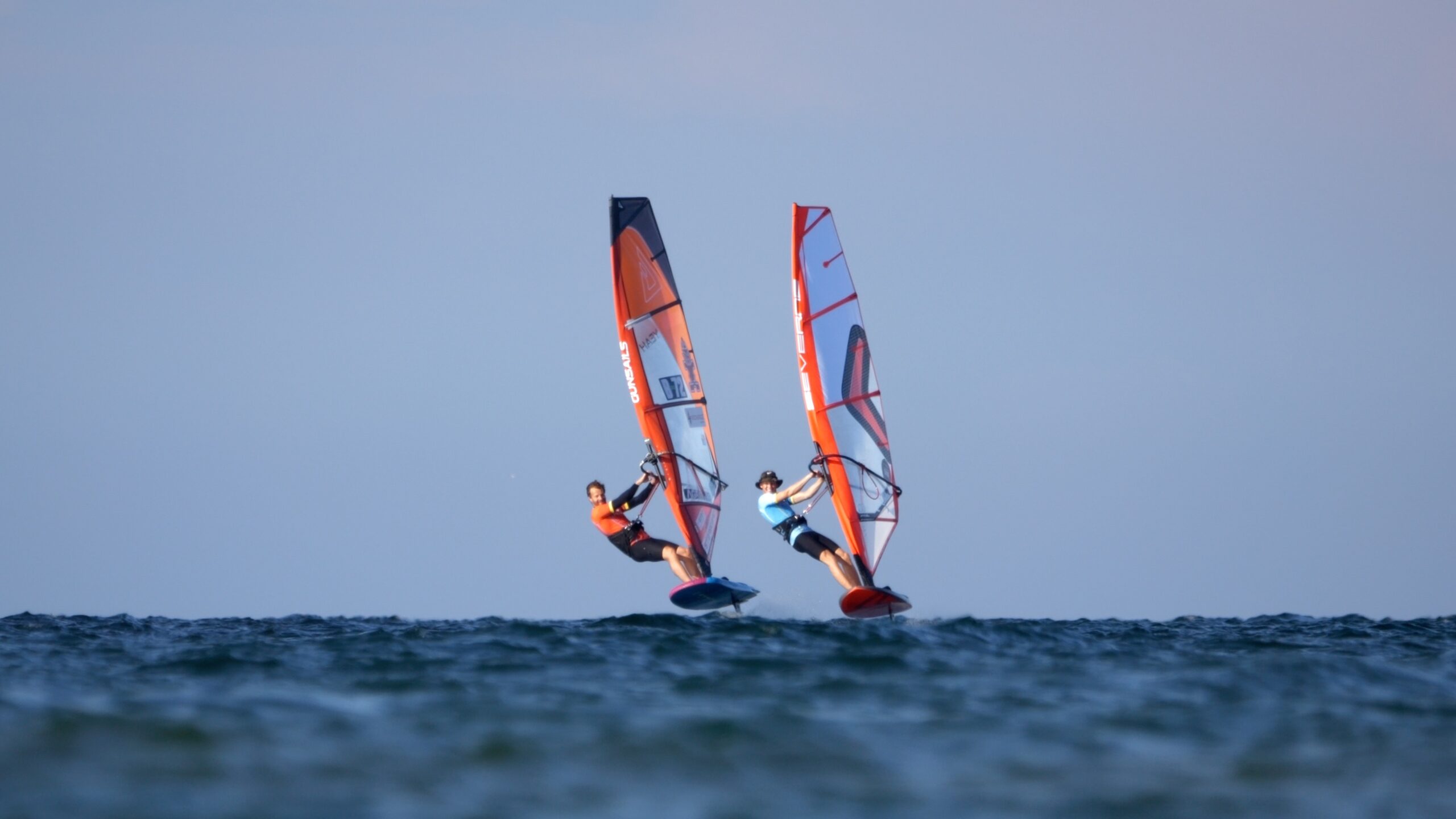 Because nobody ever actually saw the riders match up against each other in competition, the predictions are wide open. Will Belgian Steven Van Broeckhoven (Starboard/Gunsails) be able to pull from his countless experience in the Freestyle discipline to have an edge over the other Foilstylers? His five European Freestyle Titles would suggest so, but in terms of moves he is equally as skilled as some of the newcomers. Frenchman Sam Esteve (JP/NeilPryde) and Belgians Yentel Caers (JP/NeilPryde) and Dieter Van der Eyken (Severne) are three more established competitive riders who picked up the foil and are now hoping to shine in this new discipline. However, the new generation is also staking their claim. The Brouwersdam crew has been relentlessly training and seem to be matching the Fin Freestyle elite. Especially Tim Gerdes (Severne) is tipped as a favourite based off of his Foilstyle media output in the last months.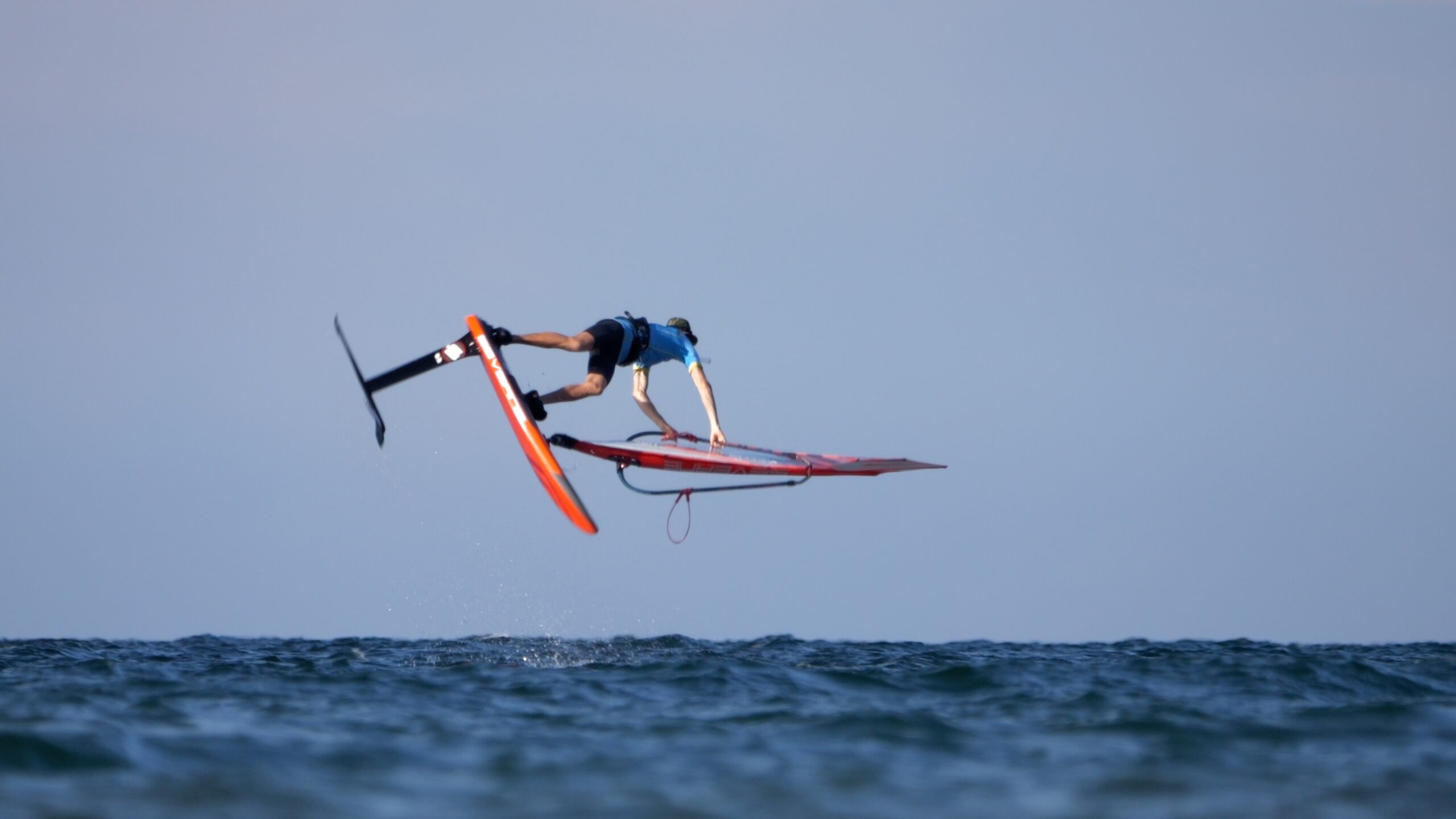 Looking to be a bit of a dark horse in this fleet is UK rider Jamie Howard (Severne). Rumours are circulating about his performance on the foil, but not much evidence is around, bar for some super clean moves from back in 2020 when he was just starting out. Will the brit cause some upsets again and surprise here in Vieste? Another rider who has been sending it on the foil is Lennart Neubauer. The Young Greek, currently leading the Freestyle rankings, seems to have a knack for learning fast and is going big with a foil attached to his board, despite of his recent comeback from injury. Finally, also joining the mixed Foilstyle fleet will be Lucie Honegger (Severne). This Swiss ripper is the only woman who entered the discipline, but is sure to put on a show amongst the men.
Notably missing is Balz Muller (Severne). Juggling a career between windsurfing, wingfoiling, pumpfoiling and being a father he said that he is getting some serious FOMO (fear of missing out) already and will be following the action in Vieste closely! Seen by many as the godfather of the discipline and arguably the best rider out there, his absence opens the door for many of the above mentioned riders to become event winners.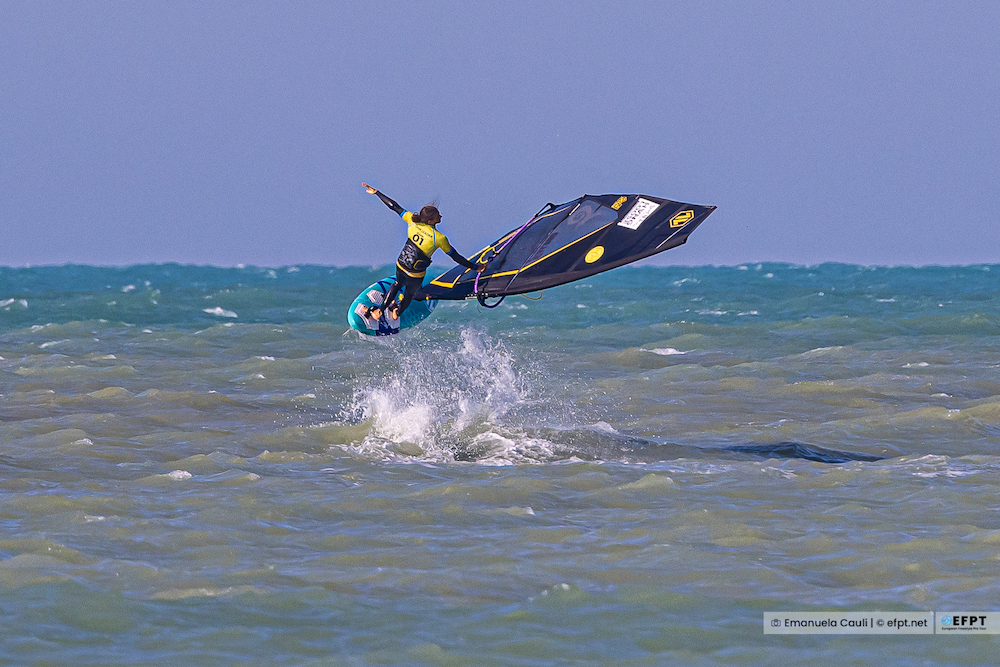 Men's Freestyle
All eyes will be on Lennart Neubauer at this event. Coming back from a year-long injury and dominating at the EFPT Surf Opening in Austria to take his first ever event win, the young Greek is now competing in the yellow jersey. How will he cope with the pressure of this position, with many experienced event winners present to try and dethrone him. One of them is Italian Jacopo Testa (AV-Boards/Point-7) who won last year's EFPT Vieste and the 2022 European Title. He is looking keen to prove himself on home turf again. Taking third at the EFPT in Austria two months ago, he continued his streak of being on the podium at every event he entered since 2014 (!), and is thus a rider that cannot be taken lightly. Wanting to set things straight with Testa after the 2022 season will be Yentel Caers, who was leading the Vieste event after the Single Elimination last year, but lost out to Testa twice in the Super Final of the Double Elimination. Caers is one of the most intimidating riders to face on tour, with 65 heat wins since 2018 and the highest average heat score of anyone. Considering the amount of events he entered in this period, this means the Belgian wins at least 5 heats per event, partially due to his infamous comebacks in the Double Elimination rounds. With a slow start to the season in Austria, the Belgian and 2019 European Champion is surely one to watch.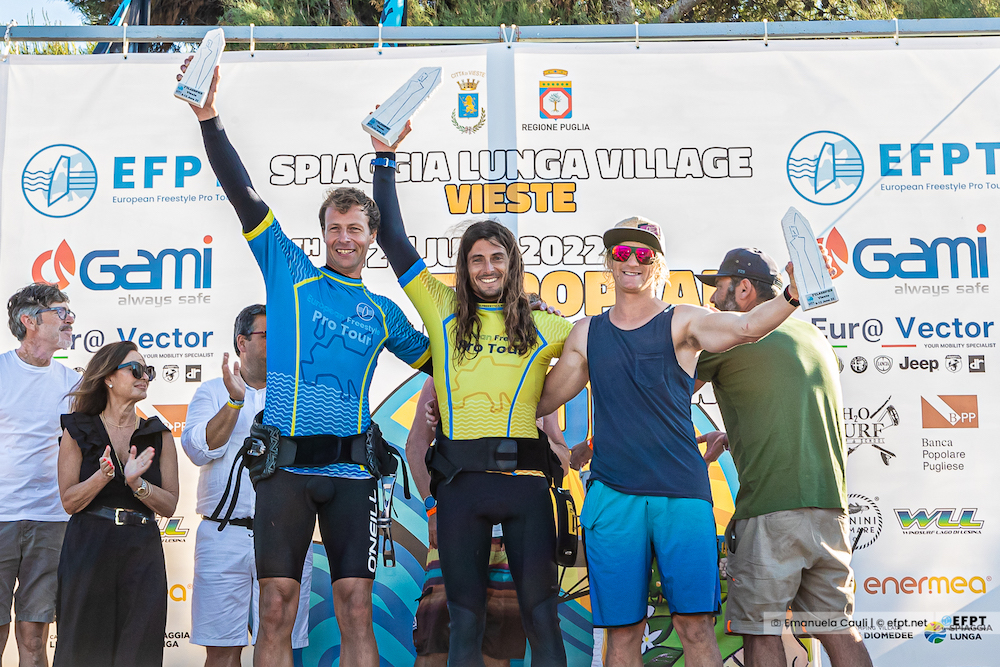 With an even better track record in terms of titles, Steven Van Broeckhoven is also fired up this year. Dominating the tour for multiple years in the past, the Belgian has shown in Austria that he is more than capable of still winning a title. His comeback in the Double Elimination at the 2023 Surf Opening was supreme, only to be stopped by Neubauer. His last event victory was in Sardinia in 2018, so can he pull it off again on Italian ground this year? Also joining from Belgium is Dieter Van der Eyken (Severne). Missing the event in Austria, the 2015 World Champion has quite a lot to catch up on if he is hoping to get back into the title race.
Missing from the fleet this year are Frenchman and 2022 World Champion Adrien Bosson (Fanatic/Duotone/Maui Ultra Fins), the recent German Freestyle Battles event winner Felix Volkhardt (Severne/Maui Ultra Fins) and 2022 5th ranked rider Antoine Albert (Goya Windsurfing) from New Caledonia. Their absence will likely create a vacuum to be filled with a host of exiting upcoming riders present this year in Vieste. The first one to look out for is Japanese Takumi Moriya (Severne). Travelling off of the back of his event win at the JWA x FPT event at Lake Motosuko, the 16-year-old rider is sure to be causing some upsets when the starting horn blows this week. He currently has the highest heat win percentage of the whole fleet, which is caused by his dominance in Japan this year combined with the fact that the Japanese results are being incorporated into the FPT for the first time. It will be exciting to see how that ratio holds up once the rookie gets faced with some of the top ranked EFPT riders. Another rider coming from far away is Youp Schmit (GA-Sails/Tabou). The Bonaire local has been putting in some great results over the last year, and has voiced his commitment and motivation to get a top result this year. His win at the EFPT event in Bonaire shows that he has got what it takes, but can he translate that into the Italian waters?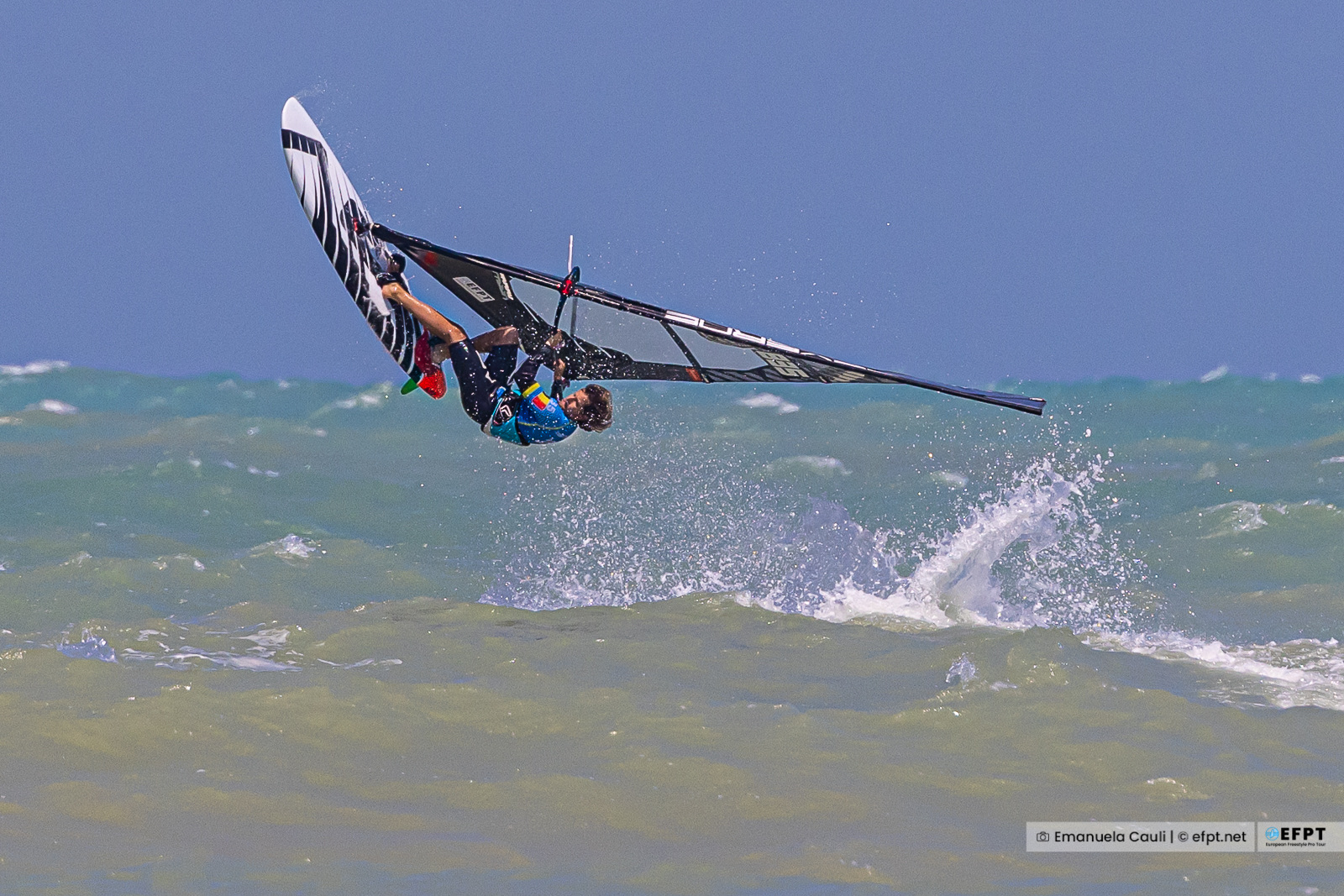 The event is also attended by a strong UK, Dutch and Italian contingent. Representing the United Kingdom are George Grisley (AV-Boards), Jamie Howard (Severne) and Oliver Townsend (JP/Severne). Especially Howard is one to look out for, as he has proven lethal in lighter winds at the 2022 and the 2023 EFPT in Austria. Grisley is also filled with confidence, after his first ever professional podium at the Proving Grounds Event in Vesoul France, just a week ago. The Dutch crew is represented by Tigo Kort (JP/NeilPryde), Bodhi Kempen (Severne) and Tim Gerdes (Severne) who have all put in impressive results at the EFPT in Bonaire. Backing up that result in Austria, they are now hoping to further improve their overall rankings. Finally, taking place in Italy, the event also sees many Italian riders enter. Apart from Testa, we will also see Eugenio Marconi (Fanatic/Duotone) and Piero Rautnik (JP) hit the water. Marconi has been incredibly consistent in his total heat scores, meaning that if one of his opponents has some bad luck or underperforms, he will be the first to capitalise on that. The 17-year-old Rautnik showed great promise at the 2022 EFPT in Austria, and is now excited to battle it out in his home country.
Finally, flying under the radar a bit are Israeli Dudu Levi (Future Fly/Gunsails), French Raphael Bauer (Starboard/Severne) and Danish Mathias Vingaard (Starboard/Severne). Levi sailed incredibly well during the opening Freestyle Pro Tour event of the year in Cape Town, South Africa. Bauer spent a lot of time sailing this winter in Leucate, and is therefore on top form. Vingaard has proven to be a real competition sailor, putting together heats consistently and causing some upsets in Austria. He has also arrived to Vieste very early, putting in some practice runs and tuning himself into the spot. Make sure to watch out for these three!

Women's Freestyle
The 2023 EFPT Vieste will see the women's fleet competing as well. Having been on top of the rankings for years, Maaike Huvermann (Severne/Maui Ultra Fins) will be representing the Netherlands. The 4 time European Champion will be looking to extend her hot streak of being unbeaten on the Freestyle Pro Tour. Hoping to shake things up however, is Norwegian Oda Johanne Stokstad Brodholt (Starboard/Severne). The last Continental EFPT event she entered was in 2015 in Brouwersdam, and she made her reintroduction on the scene during the Proving Grounds Event in Bonaire earlier this year. Oda has been training diligently together with multiple World Champion Sarah-Quita Offringa (Starboard/NeilPryde/Maui Ultra Fins), who is unfortunately not making an appearance at this event. With her stacked repertoire of moves, Oda is a real contender to dethrone Huvermann at this event.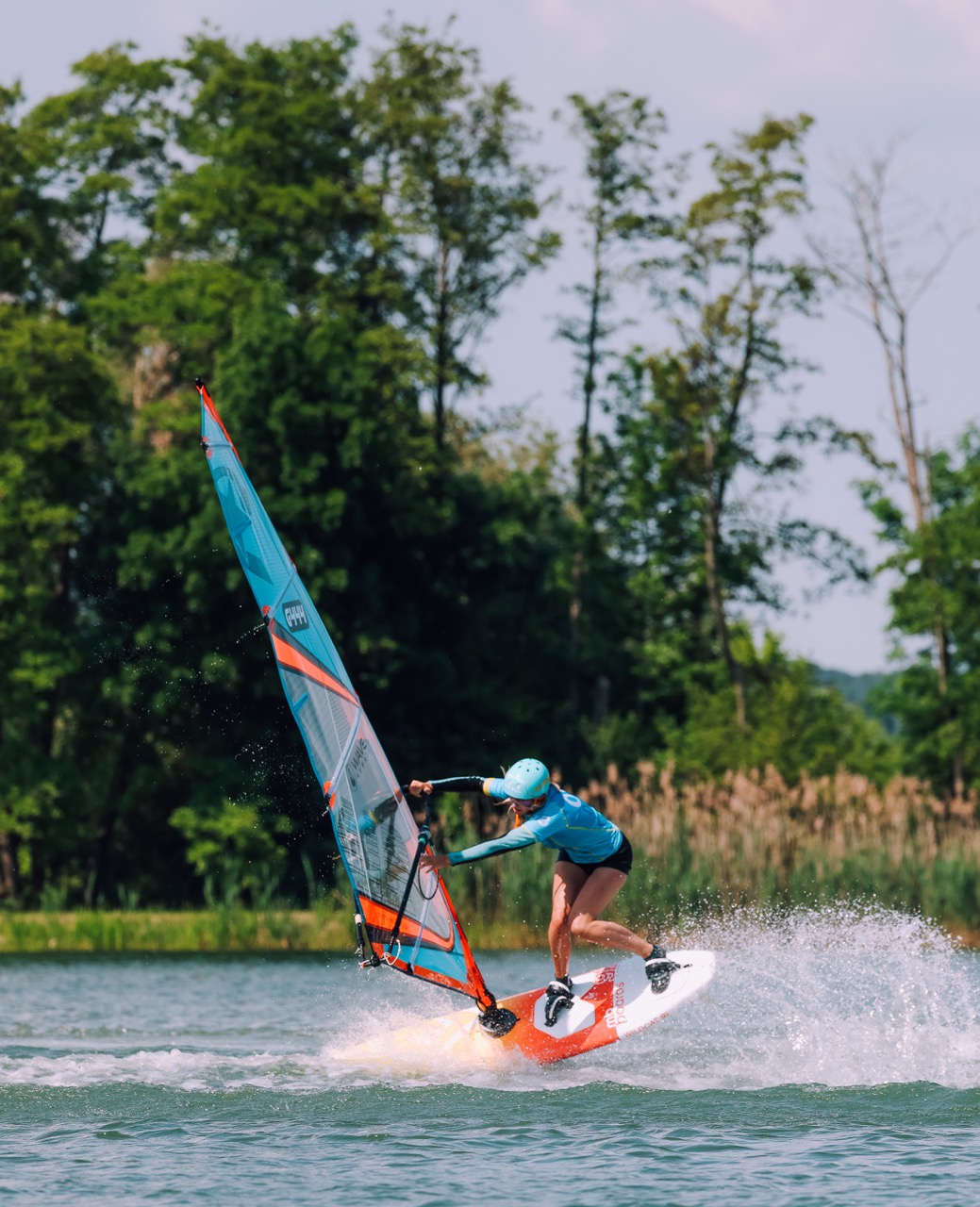 The women's fleet is strong, and there are two more riders to keep your eyes peeled for. Ranking 3rd in 2022, German Lisa Kloster (MB-Boards/Sailloft) has been steadily improving over the winter and has acquired some new moves to fill her scoresheet with. Considering her all-in approach at last weeks Tow-In event in Vesoul, she is set impress the judges in Italy and is likely to climb up the ranks once again in 2023. On the other side of the draw we will see Clare Elliot (Fanatic/Duotone) from the UK. She has been flying a bit under the radar but is said to be a podium contender for this event as well!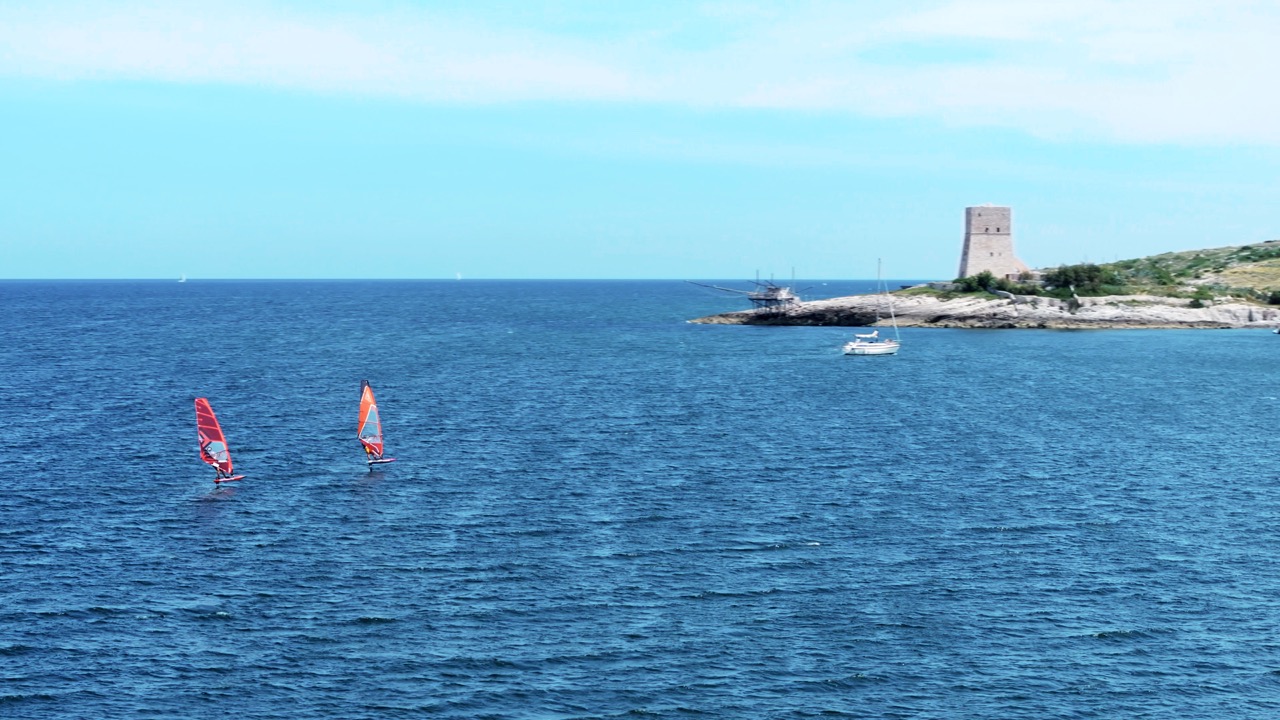 Follow the action!
With all of this excitement built up, the action at the 2023 EFPT Vieste is set to be eclectic! Want to follow it? Make sure to tune into the official EFPT Livestream which can be found on our live event page at set times every day and of course whenever there are suitable conditions to run either the Foilstyle or Freestyle. Make sure to follow our Social Media channels as well, to be updated on the latest developments, as well as getting some behind the scenes looks. Finally, sign up to our newsletter to get an extensive report at the end of each competition day!
Daily livestream schedule:
8:30CET – Morning show with features, interviews and plan for the day
19:00 CET – Daily wrap-up show with features and interviews
Windy – We're on!