After claiming his maiden Freestyle World Title on the PWA, frenchman Adrien Bosson (Fanatic/Duotone/MUF) returned home to enjoy his favourite season. Teaming up with Blue Koast Records, he captured the essence of November, which for him is an important time to cool down, reflect, and enjoy some well needed time for himself. The beaches are emptier, temperatures are lower and the wind gets stronger, providing for a perfect playground to look back on the past year. It comes as no surprise that Adrien spends most of his November time on the water, which was perfectly captured in his latest video. We caught up with Adrien to hear about the clip, and how is he is doing after a such a great year!
FPT: Sick clip Adrien! And congratulations once again on your world title! How has it been for you after achieving this, does it make your November even better this year?
Adrien: Being worldchamp was a dream and it became a real goal over the past few years. Even with the difficult times we have been trough, I have always been focusing on my skills and trying to stay competitive. I started the FPT and PWA tours full time in 2012 and since then I have never stopped and I would not have stopped until I got to the top. After all these years waiting for this moment, it felt so amazing to finally get my hands on that world title. So it probably helps me to enjoy November even more. The time sailing for myself keeps me motivated to go for it in the future once again!
FPT: The clip and your description puts November as your favourite season, can you explain why it is so important for you?
Adrien: November is the transition into the winter time and if affects me for different reasons. I am a part-time professional sailor next to managing my windsurf center La Cahute Gliss' Center from March till December. The summer season is really intense as I'm mixing it up between work, sailing, training, travel & contest. November is the period of the year where I get more time for myself and thus I can spend more time on the water. Conditions are changing too, the wind comes in stronger with good mistral days and waves too, the temperatures are dropping and so I can have the shore and the sea for myself and a few other windsurfers. It feels really good to be more connected to the elements, be more alone on the spots and escape the summer craziness.

FPT: Sounds like some much deserved time off! And we can see why you like the seasonal transition for the conditions on the water… Your clips are always a perfect combination of the two, so it's probably a difficult question, but… wave or freestyle?
Adrien: I have the chance to windsurf spots where I can do both, windsurfing is actually both disciplines for me. I became passionate about windsurfing watching the Robert Masters films with Robby Naish, Jason Polakow & co. I really love the wave side of windsurfing: jumping high, riding waves and just being on a board in the middle of the wild elements. It is an exhilarating challenge to make the most out of it. On the other side, I have always been doing more freestyle as my spot is perfect for the tricks, and it is just such an attractive discipline! There are hundreds of tricks possible, it is very easy to start, the sensations while learning/doing/landing the move are very rewarding and it is a real challenge to master them all! I have started with sliding tricks (which are so much fun) to slowly go into the air with the new school air moves. I just like to ride, and depending on the conditions I will choose wave or freestyle. Sometimes, more than not, I also mix them up together!
FPT: And your versatility with the two shows! We keep thinking back to your sick Shifties and Air Chachoo's in the waves at the EFPT in Vieste. And of course the wave experience must have been an important factor in Sylt as well. Back to the clip, you worked together with Kilian from Blue Koast Records on it, where did you guys film?
Adrien: The flat freestyle part is in le Brusc and the port tack session was in Carro. The waves sessions are in Carro and la Coudou.

FPT: The clip turned out great, it's also a great contender for this years FPT Awards. How was the collaboration with Kilian, how did the idea for this clip form and did you guys have a lot of back and forth about the final edit?
Adrien: We have been shooting together at least once a year since 2017. By now we know each other pretty well, making it a pleasure to work together. For November I basically called him to film one day at la Coudou on a strong mistral day and at the end of the day we got talking about the past summer season. It was a super hot one and we both mentioned how happy we were to finally head into the winter with some good conditions. We decided to film couple of more sessions to capture that feeling and put it into this clip. When we were satisfied with the filming and Kilian got to the edit, the process was smooth as always. I only suggested a couple of changes and the v2.0 is what you see right now! This process is always a pleasure and hopefully we can do some more video projects together in new places!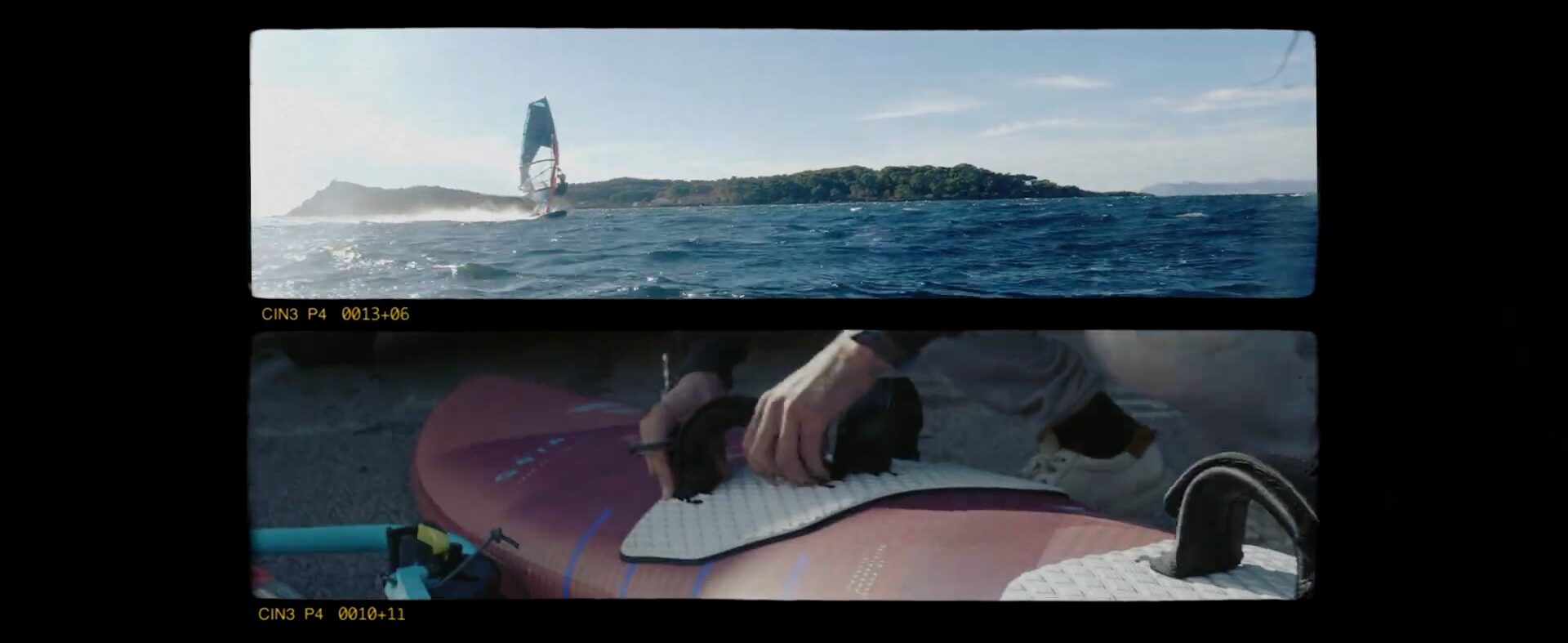 FPT: The result is fantastic, we would love to see more as well! We noticed there were quite a few crashes in the edit, was that intentional?
Adrien: Yes it is intentional. Crashing is part of the game, especially in Freestyle. I actually tried to quantify how many times I crash per year to analyse my sailing stats as a high level windsurfing athlete. I would say I am crashing around 30-40% of my tricks so maybe around 6 000 crashes per year. Crashing is the only way to improve or learn new tricks in my opinion. If you finish your session dry, it means you haven't tried hard enough!
FPT: A wonderful note to finish on! Thank you so much for the interview, and for inspiring all of us Freestylers! Good luck next year!