Lennart Neubauer (Severne/Starboard/Maui Ultra Fins) claims his maiden event win after a surprisingly windy day at Lake Neusiedl. Finishing both the single elimination, as well as running through an entire double elimination, the chocolate lake has once again provided the goods. Steven Van Broeckhoven (Gunsails/Starboard) fought his way back up to second place in the double, with last years champion Jacopo Testa (Point-7/AV-Boards) completing the podium. Catch up on all the action from this eventful day by reading the full report below.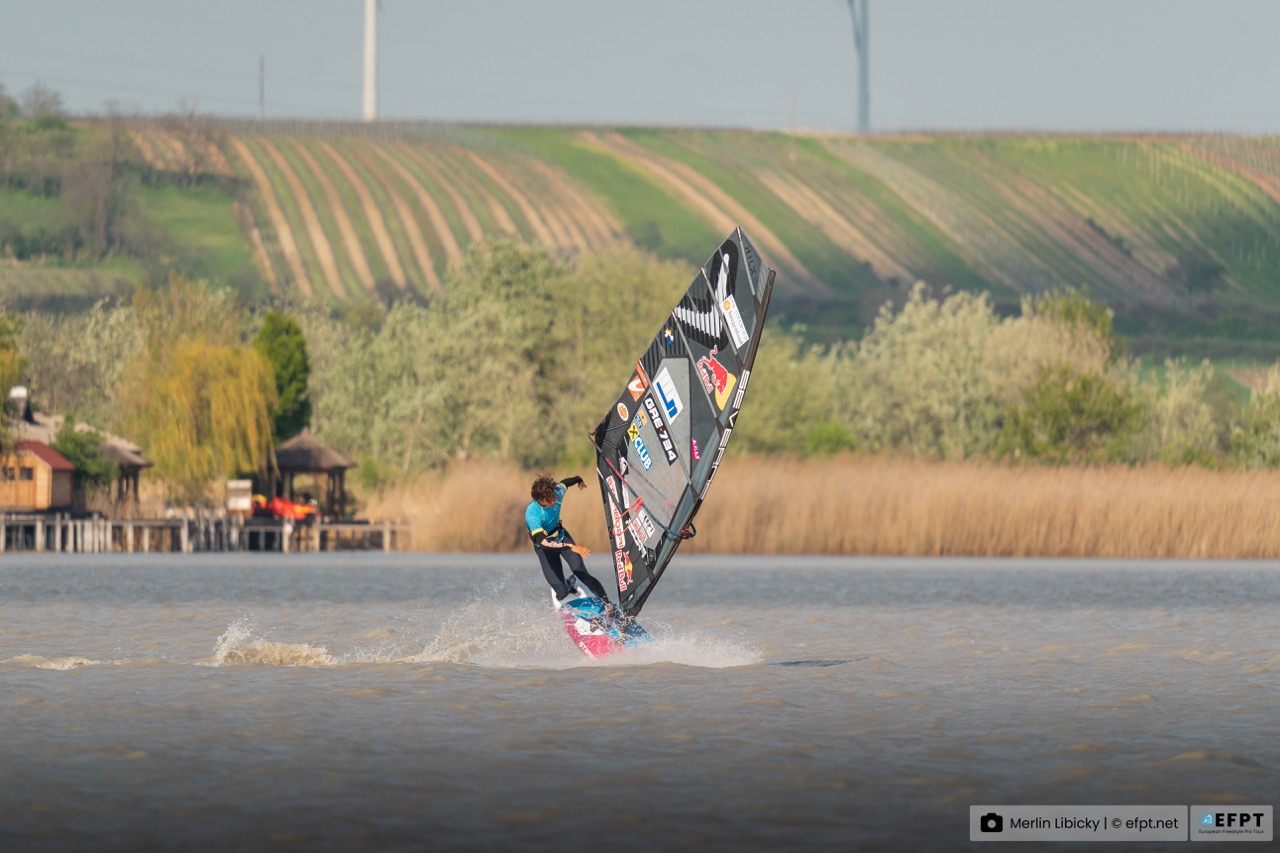 With a 6AM skippers meeting, riders were up bright and early due to the potential for a flurry of wind. The goal for the day was simple: getting an official result from the single elimination, to then try and get as much of the comeback round, also known as the double elimination, done afterwards. The wind soon filled in and Sam Esteve (NeilPryde/JP) took to the water to re-sail his heat against Jacopo Testa. Last years European Champion Testa managed to best the frenchman, pulling out his signature Chachoo to pull himself into the lead.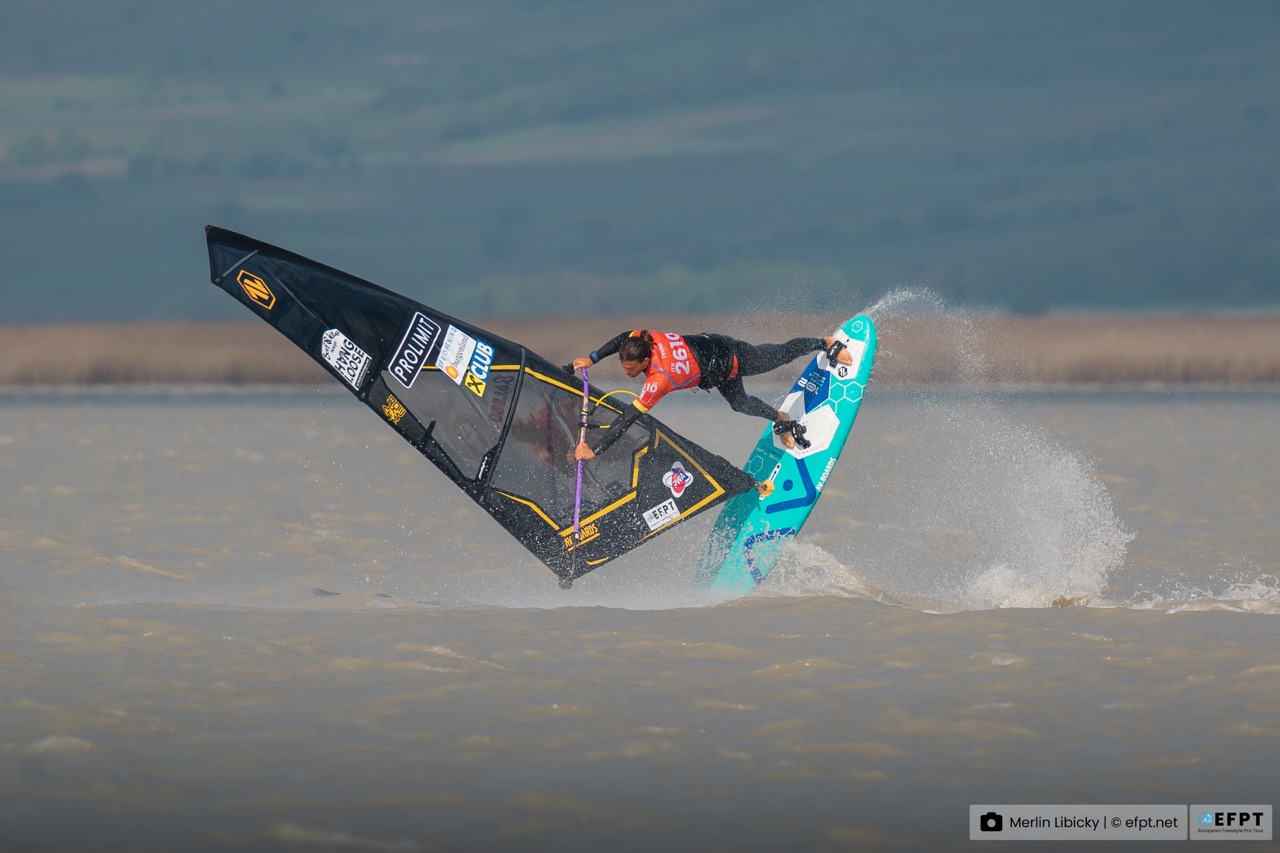 After his loss to Lennart the day before, Van Broeckhoven now had to take on Esteve for a podium spot. Esteve was in top form and won the heat with a solid 5 point advantage, taking the 3rd spot in the single elimination and leaving the Belgian Powerhouse wishing for more wind in order to get revenge in the double. In the final we saw another incredible 5.6 display from Lennart Neubauer. Doing Spock Culo's on both tacks, adding a very high scoring Shaka Flaka to the equation and finishing it off with Jacopo's go to move – the Chachoo. Testa defended well, but with light winds, the young greek was in a league of his own. With a solid 3 point advantage, the horizon was now clear for the 19-year-old to start fantasising about winning his first event.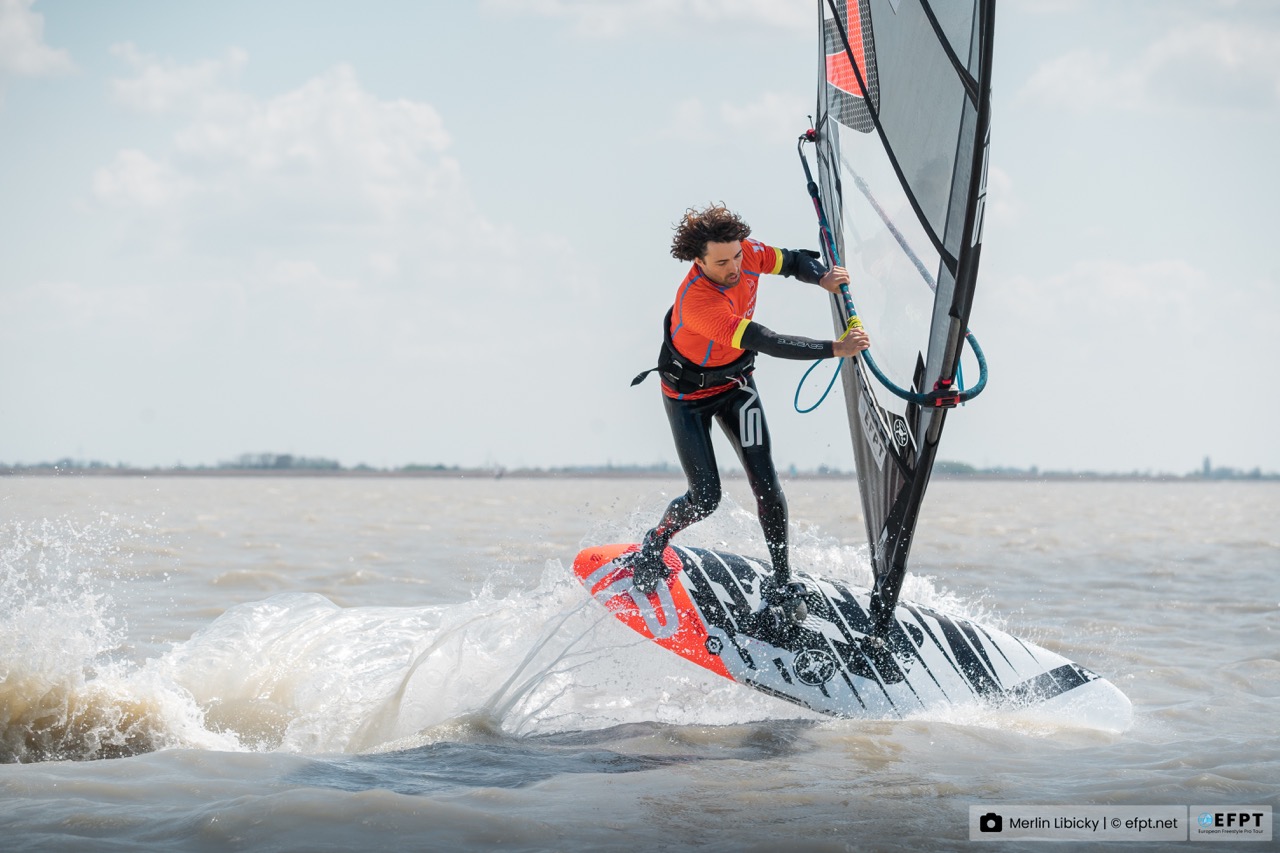 Just after the results were announced, it became clear that the wind is not going anywhere. Even though the forecast suggested that the peak of the wind was over, there were riders out there proving the contrary. A couple of athletes were frantically rigging their 4.8's just in case, due to Jamie Howard (Severne) starting to throw down Kabi's and other power moves consistently on that setup. Thanks to the improving conditions, it didn't take long for the comeback round to heat up.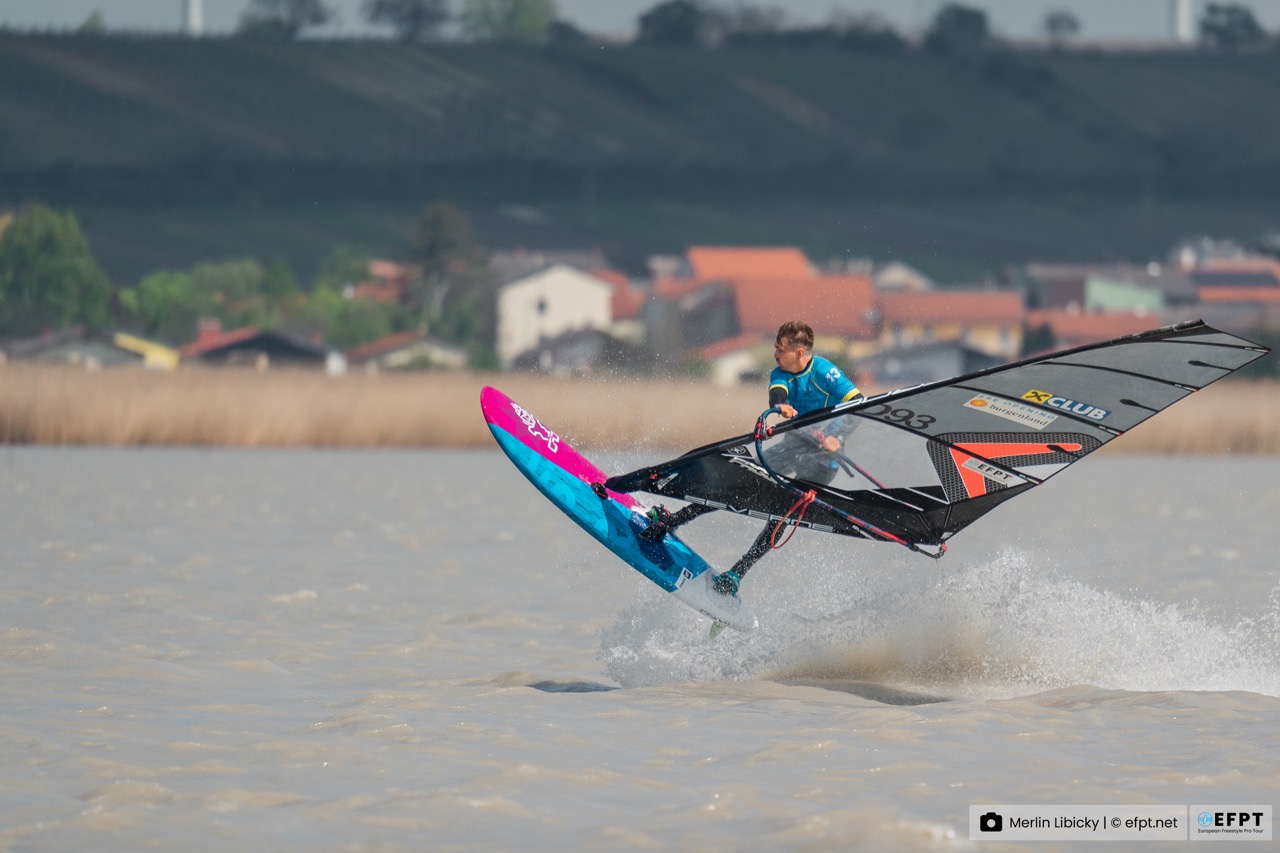 Mathias Vingaard (Severne/Starboard) was a definite standout rider who also opted for the smaller kit. The Danish freestyler drastically improved his heat repertoire since his last competition, and was able to cause some upsets due to his carefully executed ducked power moves. His heat against Tim Gerdes (Severne) was an exciting watch due to how closely matched both riders were. After an apparent win for Vingaard, the heat had to be re-sailed due to the closeness of the scores and an error. Mathias did not fold though and put in another solid heat while Gerdes was struggling to get down his higher scoring moves like a Spock Culo. The definitive break came when Vingaard did a clean Skopu, in conditions which are usually not entirely suitable for this kind of trick.
Keeping his warm-up momentum, Howard advanced through 4 consecutive heats. Consistently putting together his heat scores, he took down Primus Sorling (Fanatic/Duotone), George Grisley (AV-Boards), Michi Czech (Severne) and Bodhi Kempen (Severne). The Brit clearly had a point to prove after getting injured during last years competition while he was on an impressive run as well. It had to come down to heavy-hitter Yentel Caers (NeilPryde/JP) to finally stop him from shattering any more competitors' dreams for a better result.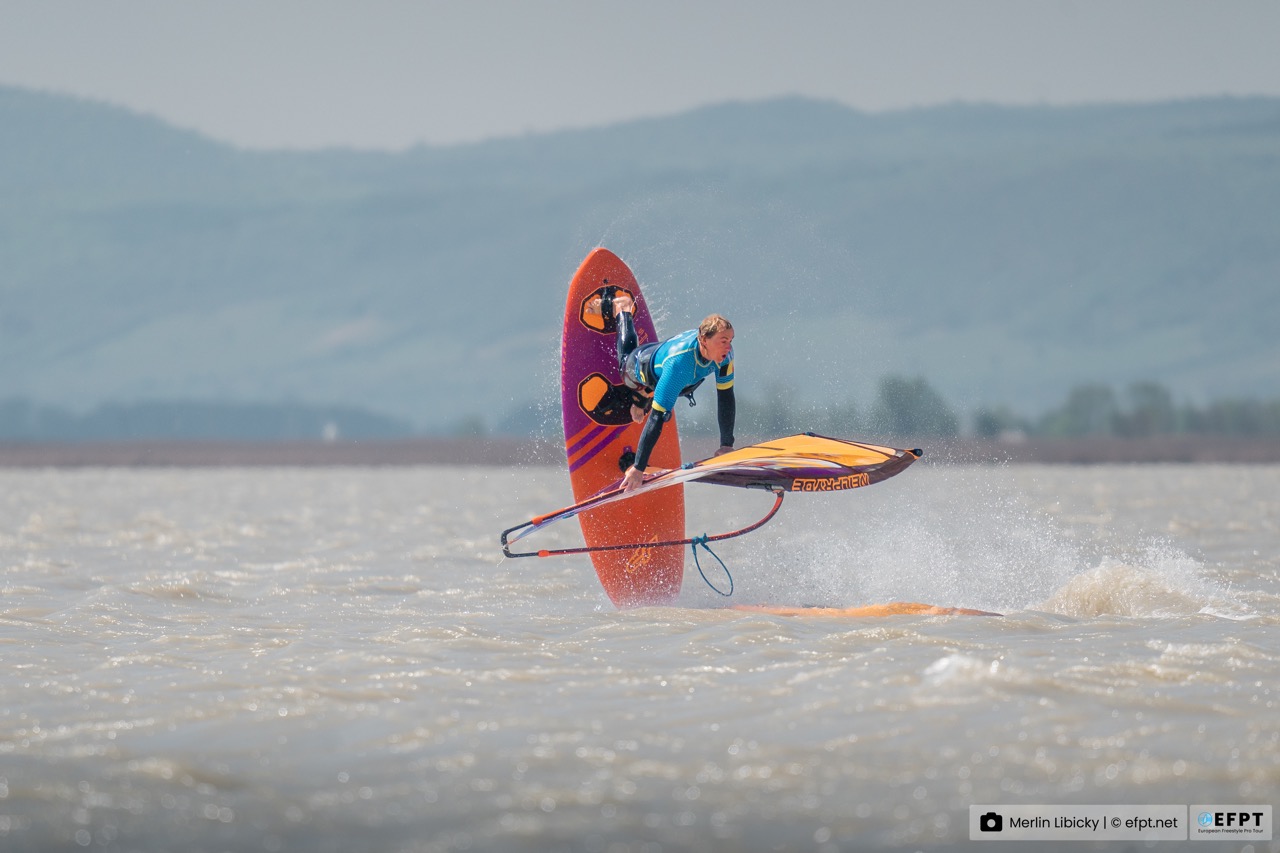 Caers was also on a mission. Losing out to Neubauer in the early rounds of the single he was determined to fight his way back up. On the opposite end of the ladder from Howard, he dispatched of Eugenio Marconi (Duotone/Fanatic), Tigo Kort (NeilPryde/JP) and Youp Schmit (GA-Sails/Tabou). Consistently scoring around 33 points, he was warmed up to take on Howard. Boasting an impressive Kabikuchi, scoring in the high 7's, Howard struggled with his starboard tack score, which in the end meant that Caers could assign him an overall sixth place at the 2023 Surf Opening.
Standing in Caers's way was fellow countryman and mentor Steven Van Broeckhoven. A veteran of the competitive windsurfing scene, Van Broeckhoven clearly drew a lot from his endless experience in his match up with Caers. There was more though, it seemed like a switch had flipped in the 5 x European Champion, as he started filling his scoresheet with moves we hadn't seen before at this event. Impressing with a Double Culo, backed up with what was the highest heat score of the event so far, he managed to show Caers the door. Yentel went down swinging though, as they were not that far apart when the final horn was blown.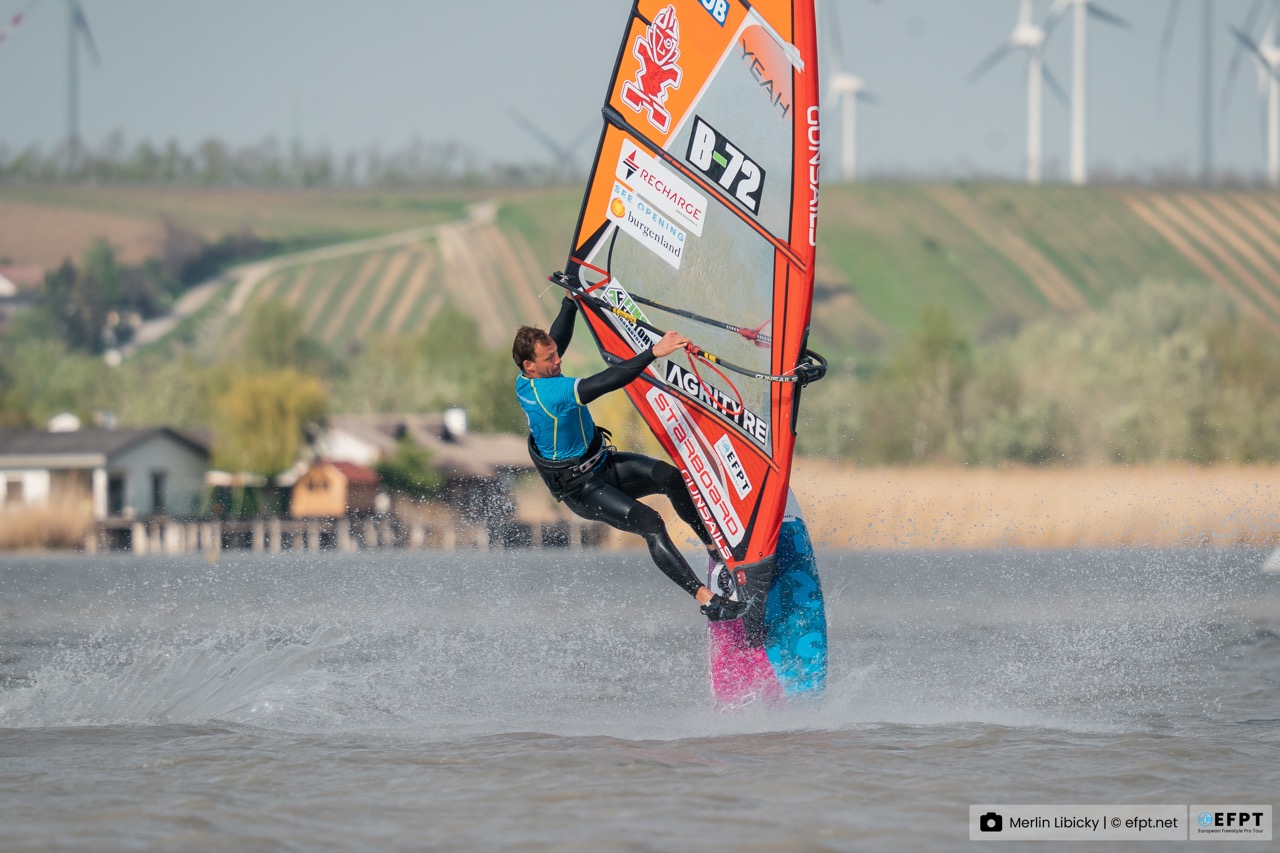 Van Broeckhoven went on to dominate the field, sailing 4 heats in a row. Sam Esteve had to step down from the podium after getting confronted with an even bigger Double Culo in his heat. It was then up to defending European Champion, Italian Jacopo Testa, to try and tame the storming Belgian. Their heat saw some of the strongest winds of the day, meaning that both could unleash their best moves. With less than a point separating the two, Van Broeckhoven took the win, yet again improving on the highest heat score of the event. Both riders only crashed once during the heat, in what was surely the most action packed 10 minutes this Austrian lake has seen in a long time. With this ridiculous momentum built up, Van Broeckhoven now got a chance at revenge against Neubauer.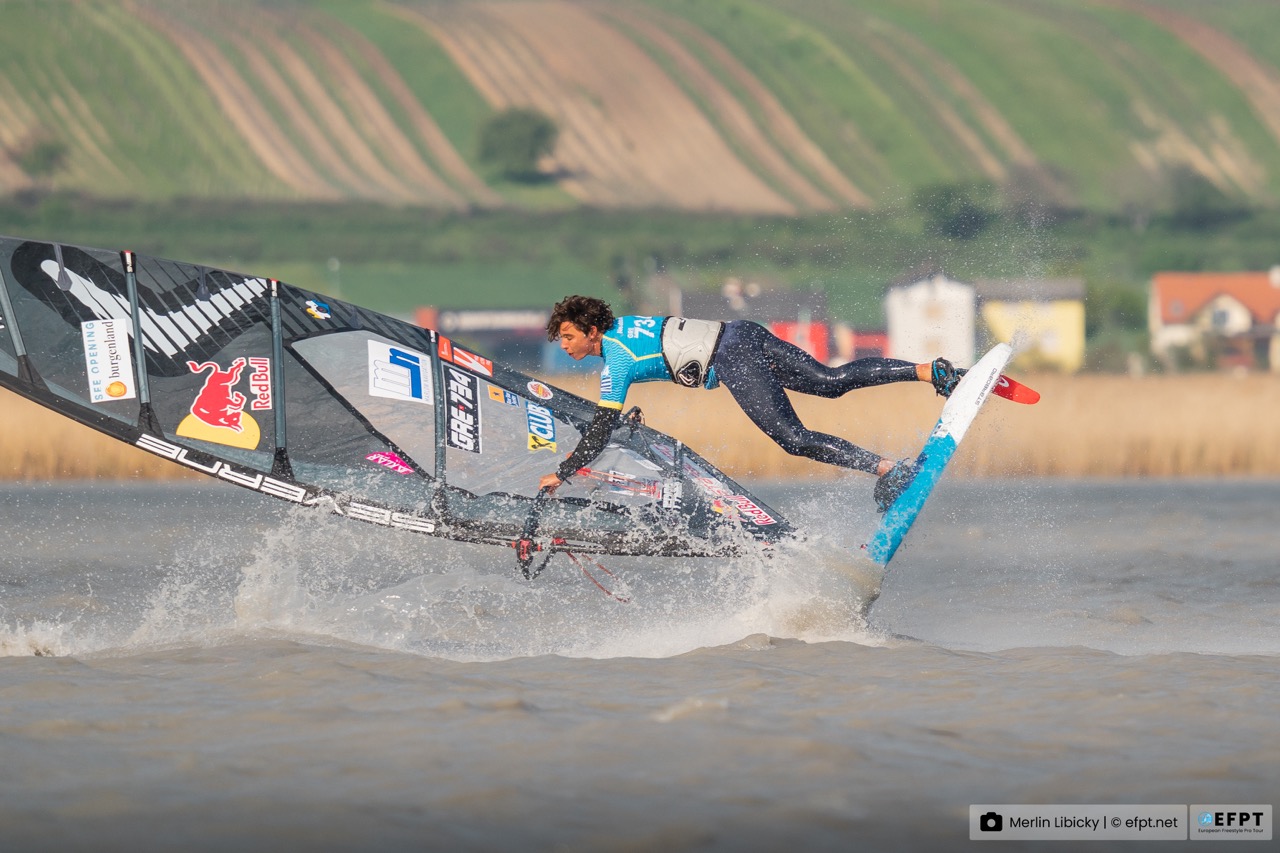 This final will go into the history books for countless reasons. It was a showdown that saw an athlete with a legendary status in the sport face off against someone who is considered by many the future of it. It was a showdown of comebacks, with Steven earning his place in the final after such a great run, and Neubauer aiming to prove he is here to dominate after recovering from a serious injury. The tension could be felt up and down the riders area, with everyone having their eyes peeled on the water to watch the action unfold. The wind had lightened, but for those who follow the tour regularly, they will know that Lennart's mastery of the 5.6 is not to be underestimated. The young Greek put together a solid heat despite the deteriorating conditions. The Belgian tried to match it but came short in the end, having to accept a second spot on the podium.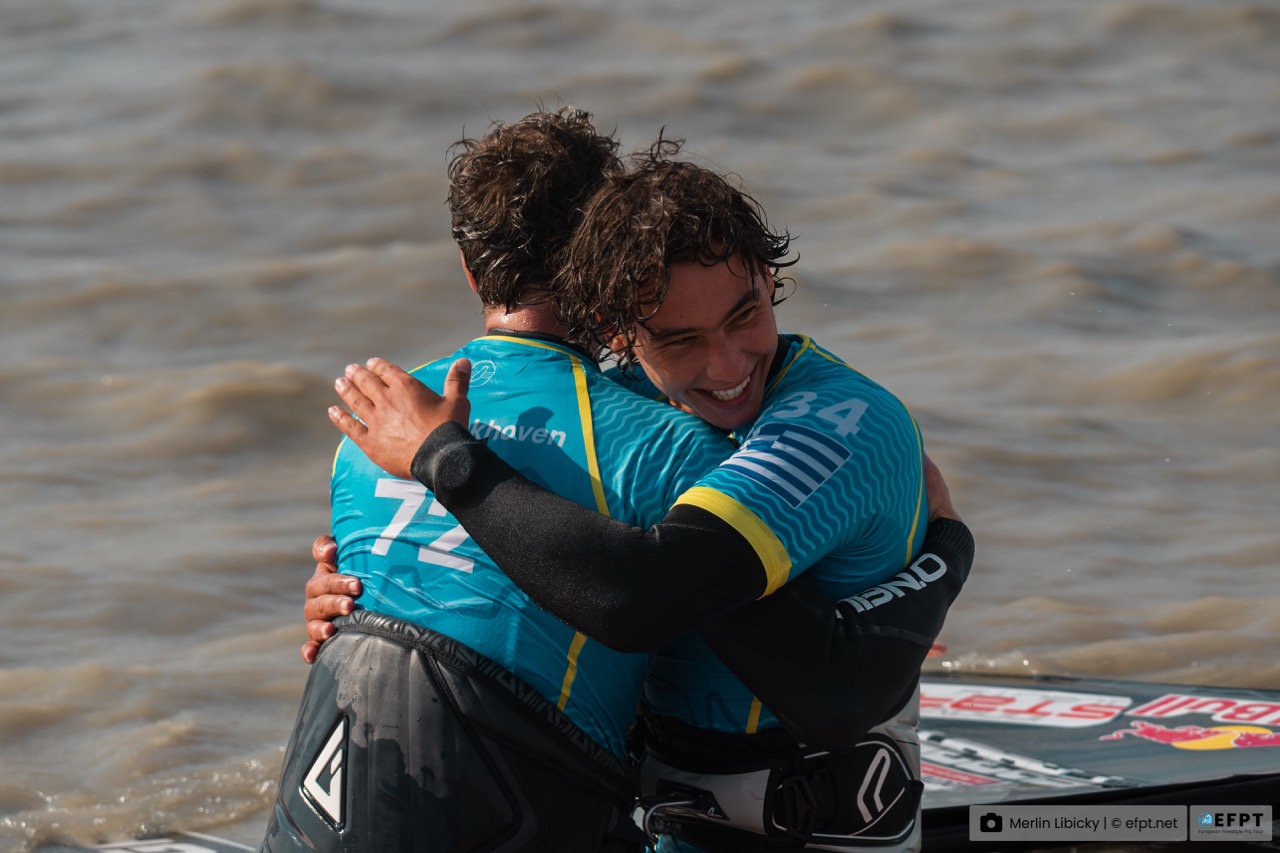 Lennart Neubauer hence wins the 2023 EFPT Surf Opening in Austria. This is his first ever event win, and is well deserved as we have seen him develop through his career. Arriving back at the beach, Lennart was cheered on by all riders, who took their time to show their respect for the hard work he put in.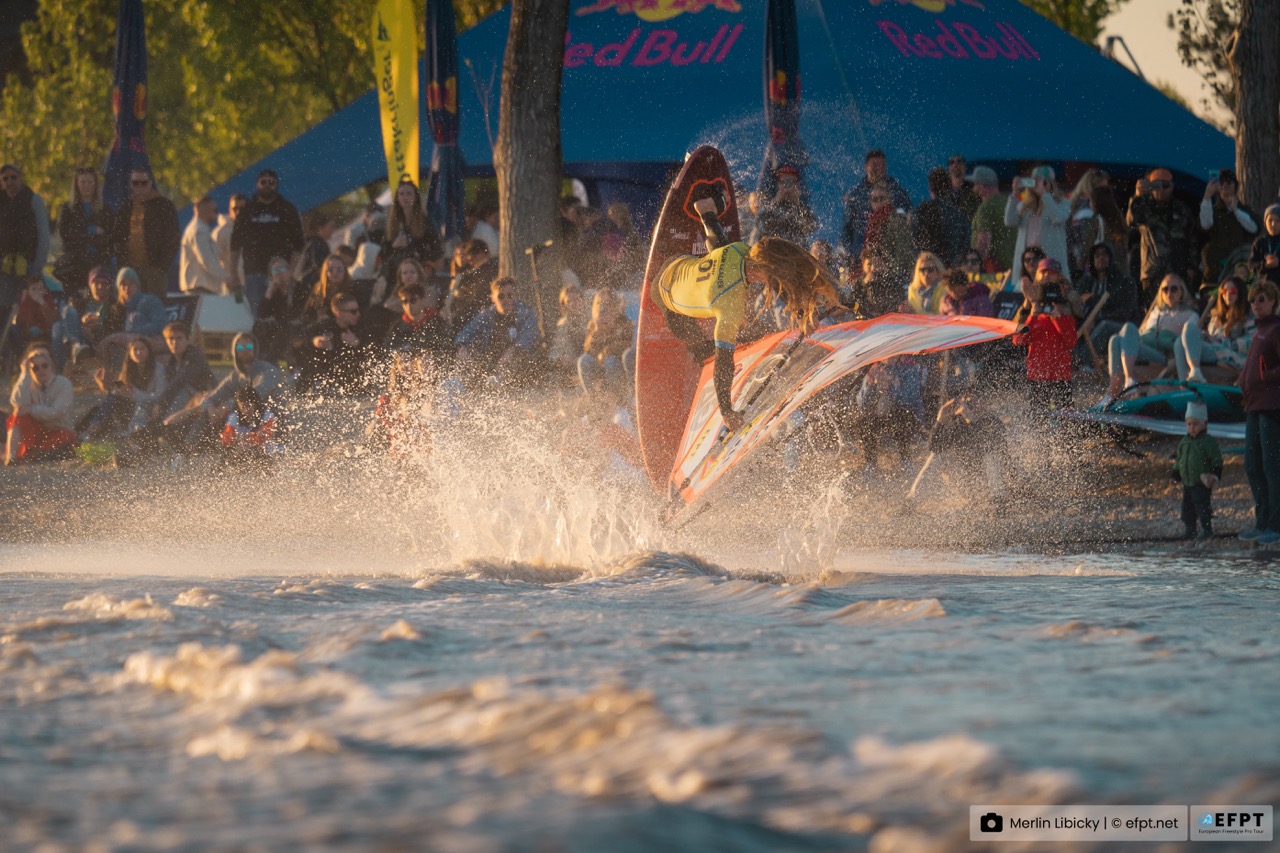 The day was finished off with a cherry on top of an already great day: a Tow-In show for the bustling crowds at the festival. Stay tuned for the heat recaps, event highlight and pictures coming out tomorrow! The last day will see an official Tow-In competition, as well as prize giving.
Official Results 2023 Surf Opening in Austria:
| | | | | |
| --- | --- | --- | --- | --- |
| Event result | First name | Last name | Sailsponsor | Boardsponsor |
| 1 | Lennart | Neubauer | Severne | Starboard |
| 2 | Steven | Van Broeckhoven | Gunsails | Starboard |
| 3 | Jacopo | Testa | Point-7 | AV Boards |
| 4 | Sam | Esteve | Neilpryde | JP |
| 5 | Yentel | Caers | Neilpryde | JP |
| 6 | Jamie | Howard | Severne | Severne |
| 7 | Youp | Schmit | GA-Sails | Tabou |
| 7 | Bodhi | Kempen | Severne | Severne |
| 9 | Michael | Czech | Severne | Severne |
| 9 | Tigo | Kort | Neilpryde | JP |
| 9 | Mathias | Vingaard | Severne | Starboard |
| 9 | Nigel | Hart | Point-7 | FutureFly |
| 13 | Adam | Sims | Sailloft | |
| 13 | Tim | Gerdes | Severne | Severne |
| 13 | Eugenio | Marconi | Duotone | Fanatic |
| 13 | George | Grisley | | AV-Boards |
| 17 | Maarten | Molenaar | Gunsails | Starboard |
| 17 | Primus | Sörling | Duotone | Fanatic |
| 17 | Emmanouil | Chrysopoulos | Neilpryde | JP |
| 17 | Andreas | Rössler | Neilpryde | JP |
| 17 | Oliver | Townsend | | |